His company, in the center of Barcelona.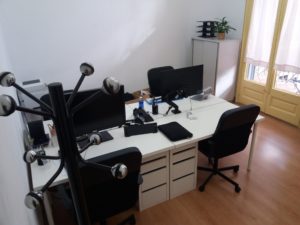 Spaces with different surfaces available, with capacity from one job to six, tall and molded ceilings and plenty of natural light.
All our offices can enjoy the indoor rest area, a terrace inside the apple and office, microwave, refrigerator, coffee and water fountain.
We have our own furniture, furnishing as possible the space but there is also the option that each client provide their material.
Especialment orientat to: SMEs, startups, liberals i freelance professionals.
The Arago 308 bureaus need no initial investment, including the material and minimum services required to start the business.
All supply costs (electricity, water, gas, internet) are included in the price of each office, greater control of monthly expenses, no surprises
Possibility of fax, photocopying, printing, document scanning, etc, according rates.
Knowledge exchange with members of the spaces, with possible collaborations or independently, as desired.
Trading Registered office, fiscal and / or.
Using the address for the documentation of the company.
Manage correspondence.
fiber optic Internet / Wifi.
Air Conditioning and Heating.
Provision of meeting room upon availability and reservation.
Office with water fountain, coffee maker, microwave and refrigerator.
Maintenance and Cleaning.
24-hour access 7 days a week.