DOMICILIATION
---
Low-cost works in the center of Barcelona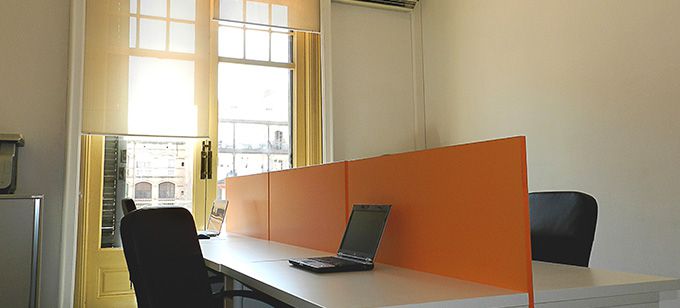 spacious, with plenty of natural light and pleasant spaces, small groups are allowed to work, with access only by members. Each workstation includes table with drawers, chair and locked cabinet. Printing service for occupants. Possibility of fax, photocopying, scanning documents, etc, according rates.
You can enjoy the indoor and outdoor area and the rest office. Knowledge exchange with members of the spaces, with possible collaborations.
Ideal for entrepreneurs, startups, liberal and independent professionals.
Trading Registered office, fiscal and / or.
Using the address for the documentation of the company.
Manage correspondence.
fiber optic Internet / Wifi.
Air Conditioning and Heating.
Provision of meeting room upon availability and reservation.
Office with water fountain, coffee maker, microwave and refrigerator.
Maintenance and Cleaning.
24-hour access 7 days a week.
privileged situation in Barcelona. Communication and transport to the city center. professional image of your company with potential business relationships.
Unification installation costs (infrastructure, supplies, maintenance, etc.) access Meeting room and terrace with communal seating areas.
Reduction usual costs (maintenance, cleaning, air conditioning, fire prevention equipment, front desk, copy shop, administrative services, etc.)